October 3, 2023

fp.wp.admin

0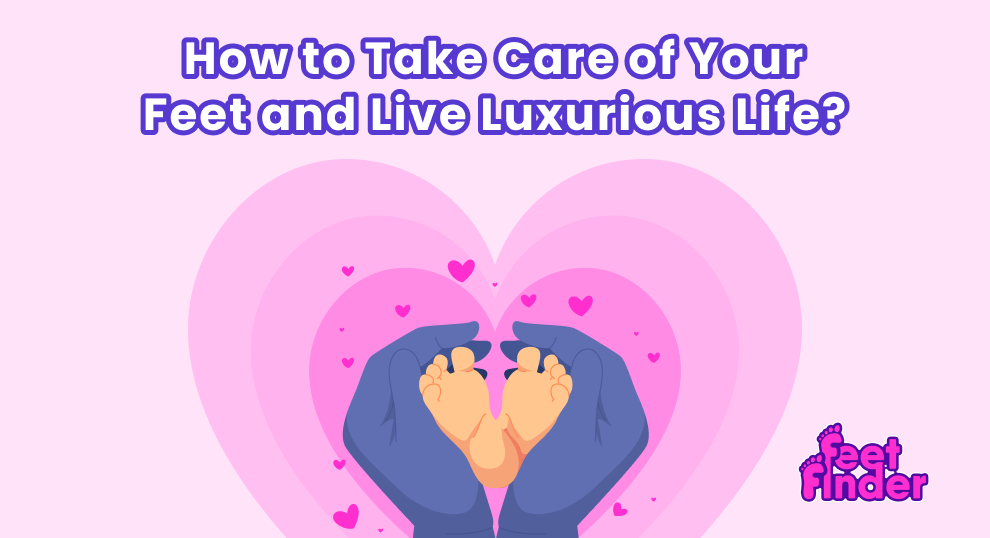 People dream of living a luxurious life but feel as though it is far away from reality. Unfortunately luxury often comes with a larger price tag. If you are pinning for the finer things in life, taking care of feet, and selling feet pics on a reliable platform like Feet Finder will take you to financial freedom.
Yes, you hear right, your feet can help to live a luxurious life as there is a high demand for feet pics.
You have to prepare your feet and pay attention to their appearance by taking care of them. It is essential for good foot pictures and to attract buyers. Additionally, proper taking care of your feet can help ensure everyday comfort and reduce your risk of developing foot conditions.
Taking care of your feet is good for your health and feet business as well. You can earn money to pay your extra expenses to live a luxurious life by selling your pretty feet. If you are getting ready to showcase your feet pics for sale and need advice you have come to the right place.
Foot Care for Luxurious Life
Feet comes in all shapes and sizes but foot care is the same for everyone. Feet models who are selling feet online need some extra care. Good feet care to keep your feet comfortable and in the best condition. The following are the best practices for foot care and proper ways to earn money for earning money online.
1. Pamper Your Feet
The first step to earning money from your feet pics is to keep your feet happy. For the happiest feet, daily care is a must. Pampering them is an excellent method of taking care of your feet. Here you have a step-by-step guide to take care of feet suggested by feet models.
Weekly Pedicure: preferably get regular pedicure services at least once a week. Professional feet models get pedicures at least once a week to have pretty feet. This is the reason professional foot models have beautiful feet.
You can prefer to DIY when it comes to pedicure but it is a must whether at home or from a professional. Be careful while trimming your toenails make sure you contour the toenail of the toe shape.
Soak Your Feet: make a foot soak of warm water, body wash, and any oil of your choice. Soak your feet for about 20 minutes. It will remove all the dirt from the toenails and soften dead skin.
Exfoliate: now your feet are ready for exfoliation use a pumice stone or foot filer to remove dead and dry skin. You can use a pumice stone at the end of the shower to have pretty feet all the time. If you are trying to make money on feetfinder make sure your feet are soft and smooth to attract buyers.
Moisturizing: whenever you will ask for model tips you always hear moisturizer. It is pretty obvious but you should moisturize your feet every day to have smooth heels in the morning. Many successful foot models moisturize their feet nightly before bed and wear cotton socks to sink the goodness into their feet. It is an important part if you are trying to make a profit by selling your feet images.
2. Take Some Good Photos of Your Feet
If you want to start your career and make the best-looking feet in the world follow this perfect guideline for taking good photos. The first step is to use a high-quality camera and tripod to take still pictures.
However, you can take photos without these gadgets but it will take longer to get good results. There is a demand for good quality pictures so you can make a profit and live a luxurious life if you spend on good gadgets.
3. Ideas for Foot Model Photoshoots
After pampering your feet now you are ready to go and take some quality pictures. You can view celebrity feet pics on FeetFinder to have an idea of professional pictures. Let's read some FeetFinder hacks to capture nice feet photos.
Lighting Setup: if you want to take some nice and attractive feet pics use the perfect lighting setup. It is important to click photos in soft light and it should not be too bright or harsh.
The best is natural light and it is free. You can utilise the daytime. Try to find a shady area to click photos of because direct sunlight can make your images sharp.
4. Feet Poses
You can actually get paid for the attractive foot poses, but taking best-selling foot pictures is not an easy task.
No pressure though you need to understand how to take professional-looking photos that stand out. Here you will find how to pose and take pics to sell for money. There is no limit to the number of poses that you can create using your feet and toes. To get started and attract buyers here are some tried and tested poses of feet models.
Soles Poses: These poses cover the bottom of the feet from your heels to your toes. You can take these pics when lying in bed. You can stand on your toes to capture soles and it looks sexual to viewers.
Feet in the Air: this is also among the best-selling feet pictures on the feet-specific websites. It covers almost all the angles of the feet. If you take from the downside your soles and ankles will capture. Taking a picture from the top will cover the top of the feet. To take a picture just lift both feet in the air and take a snap with the sky as background. Experiment with feet like crossed feet, toes touching, and curled toes.
Pedicure and Nail Polish Poses: you can experiment with painted toenails. It adds beauty to your feet in the frame. Additionally, you can take foot pictures while getting your pedicures to give it a natural look. You can use varying backgrounds for improved aesthetics and paint your toenails differently to make pictures unique. You have to pose like a pro to get more orders and clients.
Accessorized Feet Poses: Feet pictures look more adorable if you try jewellery or other accessories for feet. You can wrap little LED lights around your feet, using temporary tattoos, and wearing beaded sandals is a good idea for foot pictures.
5. Upload Feet Pics and Earn Profit
Among the countless ways to earn money online, selling foot pictures has gained significant attention. You may ask where to showcase these foot pictures, without any doubt FeetFinder is the best place to make money and earn profit.
You can surely live a luxurious life through this venture only when you sell feet pics without getting scammed. Feet Finder provides a secure and safe environment for people interested in buying and selling feet pictures.
Platform: FeetFinder is a unique platform to earn profit by selling foot pictures. It is the answer to the people who want to know a secure place to showcase their feet 'images. Here we will guide you on how to make money on FeetFinder for a luxurious life.
Always choose a reliable platform and read FeetFinder reviews on their official website as they have positive reviews from sellers and buyers.
Signup: the first step to making money on Feet Finder is to register yourself as a verified seller. Create an account and provide your national ID for ID verification and you will be required to provide some personal information.
Setting up Your Profile: once you have registered it's time to set up your feet profile according to your feet and content type. This is an important step to earn money as you have to write appealing descriptions that attract buyers.
Posting Your Feet Pics: Uploading high-quality foot pictures is the key to success. Before starting you must know the pros and cons of selling feet pics to earn more profit and enjoy luxurious life.
Pricing: this might be tricky but to make money on feet finder must check your competitors and their prices. After spending time in the industry as you gather an audience and fame you can increase the prices of your feet.
Maximise Your Earnings: Be consistent in uploading content and sharing new content every day. Engage your new and existing audience. Update your profile and keep it fresh to increase visibility. If you successfully maximise profit you will surely earn profit.
Simple Foot Care Hacks
It is a pretty common thing for people not to think about their feet seriously. Generally, they consider them a bit gross but they don't know that feet can earn them money for a luxurious life. These simple foot care hacks can change your life. You will walk around confidently and start a side hustle selling foot pics online. Here are simple tips for looking after your feet.
Give the Heels a Break
We all know walking on heels all the time is terrible for your feet. It doesn't mean to throw away your stilettos altogether. You can take your heels in your bag or a separate cotton bag and wear trainers for your travel. Your feet will thank you for it if you transport your precious heels in a bag.
Keep Your Feet Clean and Dry
To avoid smelly feet and unpleasant things like athlete's feet, keep your feet dry and clean. When you get home from work and take off your shoes, wash your feet to remove dust and bacteria.
After cleaning make sure to dry them with a clean towel and use talcum powder in between those toes. If you leave your feet damp it will increase the risk of fungal infections. Additionally, to keep your feet super fresh you can use lavender and tea tree oil, give them a massage and then rinse with a mild soap.
Slough Away Dry and Dead Skin
Use a pumice stone or foot filer to slough away the dead, dry, and hard skin of your feet. Soaking your feet in a tub of warm water helps soften your skin and will make it so much easier to remove that dead skin.
Soft and smooth heels are the most popular on the internet and if you are going to sell your feet for a luxurious life then you must remove the dead and dry skin of your feet. If you have some serious issues such as bunions and ingrown toenails then book an appointment with your doctor.
Moisturize
When it comes to moisturising feet are the most neglected part. Feet needs a thick moisturiser so get a nice rich Shea or honey-based moisturiser to treat your feet.
If you are dreaming of living in comfortable luxury for the rest of your life the above option of selling foot pics and guidelines will help you reach that lifestyle.