October 3, 2023

fp.wp.admin

0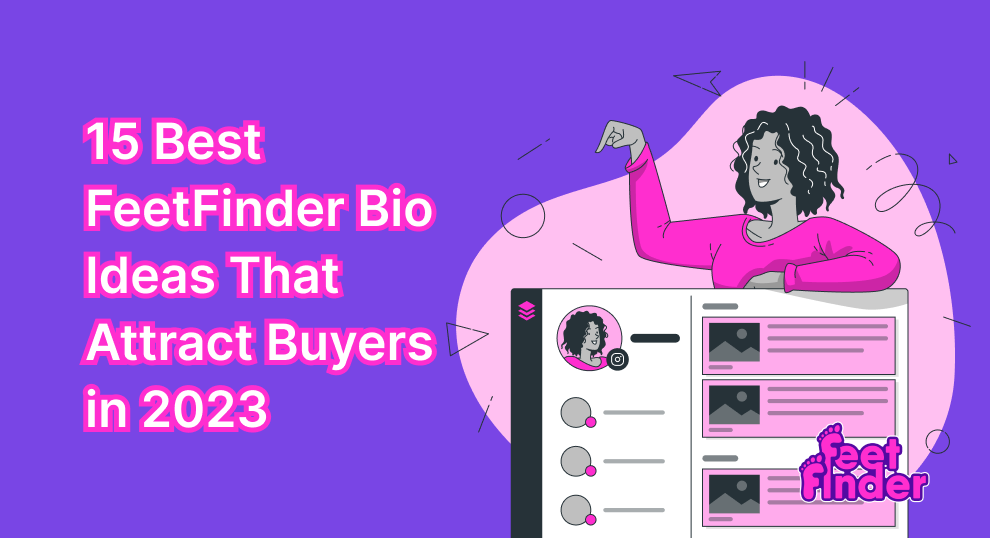 Enticing FeetFinder bio makes a significant impact on buyers. A good bio attracts buyers and this is your initial impact on them. Feet Finder is a platform of great opportunities for sellers so it is better to avail that chance. Essentially a good bio is a way to captivate your client's interest and ultimately convert them into buyers of feet content.
Feet Finder is a feet-specific website for people who want to buy or sell feet pics online. This provides a secure platform and also tells different ways to earn profit quickly by selling photos. Feet models earn millions through this platform and they enjoy working with this platform.
In this blog, we gather all the information on feetfinder bios with examples. The experienced feet models suggested words that they use to attract buyers. Here are some of the top Feet Finder bio ideas you can use for your feet profile.
What is FeetFinder Bio?
A FeetFinder bio is a brief description of the services that you are offering, foot size, and keywords that help browse your profile easily. Anyone who is selling foot pictures for money must write an ideal bio. The main point is to attract buyers so it should be precise and naughty.
Buyers search for foot content on Feet Finder by using some words if they match with your bio, you will discover them. That's why bio is an important part of your feet finder profile. An informative bio contains all the details about your content and is a crucial part of your sales.
It should contain humour, creativity, and engagement all in one place to attract potential clients. If you are serious about selling feet pictures then the first impression of feet finder bio is incredibly important.
Why is it Important?
Feet finder bio is important for ant feet content creators. It increases the chance of sales and people your targeted audience will connect with you. Your Feet Finder bio is the first thing that buyers notice when they visit your profile and decide whether to buy from this seller or not. It is the core part of your sales on this platform.
Forget about boring bios and updates with this new idea that not only looks good but attracts new business for you. Create something exciting and eye-catching, and include words that are relevant to search engine optimization.
Best FeetFinder Bio Ideas to Attract Buyers
Many elements make your feet finder profile notable. Bio is not only about one thing but several important things make a perfect bio to attract buyers. This is the first and most important thing for your profile. Check out these FeetFinder hacks on bio ideas that attract buyers.
1. Clear and Easy to Understand Bio
The message you are going to write in a FeetFinder bio must be clear and easy to understand so that people with limited knowledge can understand. After all your goal is to make money on feetfinder so it is important to write simple things that are understandable by anyone.
Difficult words can divert the client's attention. So remember to keep attracting new buyers and make things easier for them.
2. Write Something About Yourself
Online buyers naturally feel connected with the sellers despite the purely virtual nature of the exchange. It is advisable to share something about yourself like interests and motivations. Consider mentioning your passions like dance, tattoos, or something that is related to feet. If you write something about feet it will be better for you to attract buyers. It is suggested to primarily describe the main point of attraction "feet" and something interesting about yourself. A seller must be entertaining and writing fun things in the above part works great for attracting buyers.
3. Describe Your Feet and Toes
Feet come in different shapes and sizes and mentioning them in your profile will make you visible. Write captivating descriptions while writing about feet such as tattooed, pedicured, flat, curvy, big, small, or sexy. Additionally consider writing about your legs, and physical appearance. This allows FeetFinder users to know more about the person behind the seductive feet images. Buyers use filters to search for a specific size or quality of feet.
4. Mention Foot Size
It is good to give an idea about your feet' size and shape. Buyers who use a search filter can search for a specific size so it is important to mention it in your feet profile.
5. Mention Your Age
Primarily foot fetishists are the main buyers of feet pics and videos. Typically these individuals are looking for young women of their ideal age so they search through an age filter.
Additionally, they might also search for mature feet because they have a fetish for older women's feet. That's why it is important to mention your age to attract buyers. However by simply mentioning your age you can attract a wide range of buyers interested in various sexual preferences.
6. List of Services
Feet Finder is a dedicated place for selling and buying feet pictures. You can attract and engage buyers by sharing the list of services that you are offering to your profile.
You can include words like yoga, bondage, sensual massage, stockings, foot jobs, and dirty feet with mud. Buyers interested in the mentioned services contact you to buy content. You can easily captivate potential buyers by providing details of services.
7. Use Keywords
Keywords are a powerful way to attract buyers as they optimize your visibility. It connects you with potential clients who are actively searching for specific content that might be offered to you on FeetFinder.
Incorporating keywords in your username, description, and services list, increases the visibility of your profile to the buyers. These keywords can be specific phrases or terms related to the type of content you are offering.
8. Use a Naughty and Engaging Tone
Everything you write conveys a message and your way of interacting with others. When a client visits your feet finder profile he tries to guess what it would be like to interact with you. Of course, selling feet pics to foot fetishists is all about being naughty and fun. So it is a better way to start with a naughty impression to grab the buyers' attention.
9. Be Honest
If you are starting your career as a feet model and seeking FeetFinder bio ideas. You should be honest with your work, be careful while writing about services and don't include all services that you might not offer in your content.
This is the foundation of the buyer seller relationship so be honest with them. Therefore ensure that whatever you are writing in your FeetFinder bio is accurate and realistic.
10. Do Not Copy Paste Other's Bio
This is a common practice for many people to copy someone else's bio or content. Feetfinder is all about originality and creativity so you should be creative and write bio by yourself. Further, it can easily be detectable and can make your profile doubtful.
You can get ideas from other successful sellers but write the things that you can offer to buyers. Your honesty will attract potential buyers.
11. Do Not Write Lengthy Bio
Nobody takes interest in long paragraphs as they are there to enjoy. It is important to summarize everything, keep it short and refrain from going into long details. You should focus on the content and write attractive words to attract them.
12. Do Not share your Personal Information
Everyone wants to sell feet pics without getting scammed and feetfinder provides a secure environment for that. However, you have the right to share or hide your details. When writing a feetfinder bio you might carried away with the thought of sharing everything about yourself. Remember some information is confidential and sharing in your bio can be risky.
13. Be Fascinating
To make your chances brighter try to write seducing words in your bio. There are some pros and cons of selling feet pics so you have to be careful. Write something that you can offer to them. If you write sexy feet poses it attracts buyers but you have to create this type of content.
14. Using Icons
Using icons makes your profile look more radiant and attractive. Images attract more than words so it is a good idea to add icons in your feetfinder bio.
15. Profile Pictures
The most important part of your profile is the images that you share to attract clients. You have to deliver quality when working on Feet Finder. You can read Feetfinder reviews as all users are satisfied working on this platform so you should make your goodwill as a seller by uploading quality. It is suggested to upload high-quality pictures on your Feet Finder profile.
Although FeetFinder is a feet-specific platform with numerous opportunities for buyers and sellers. Feet models fulfil the demand of buyers which they are searching for. Additionally, FeetFinder bio ideas work great to attract potential buyers and make money on this platform.