October 18, 2023

fp.wp.admin

0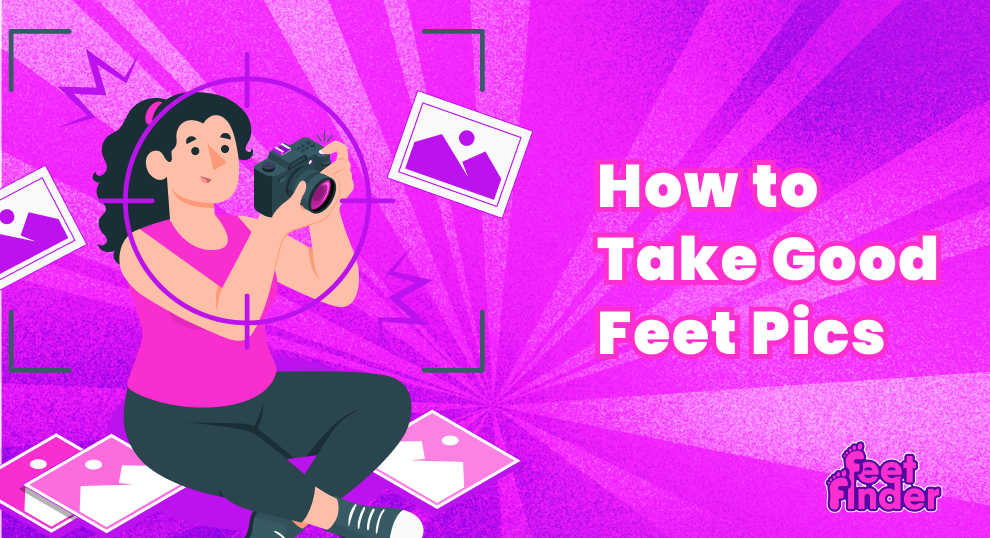 It is not always easy to take good foot pics. You need the right background, gear, props, and perfect lighting to take good pictures. It can be tough but our guide and FeetFinder hacks can make it possible to take good feet pics with less effort. Your feet are the main part of feet pics and if they are looking their best your feet pics turn out interesting and focused.
The benefit of taking good feet is drawing the attention of potential buyers. Feet Finder is a place for finding, buying, viewing, and selling quality feet pics. This online place is the best choice if you want to earn real money from the comfort of your home. If you don't have any idea how to take good feet pics, don't worry this guide will help you to take feet pics like celebrity feet pics.
Let's start with the best guide that will amaze you.
Tips to Take Good Feet Pics
Taking foot pics is not that easy but with this step-by-step guide, you will capture foot pics like a pro. Selling feet pics is a great way to make some extra cash and live a luxurious life. However, if you want to be successful you need to take good quality feet pics that stand out among others. Use these tips to start on the right track.
Pamper Your Feet
Whether you are capturing feet pics for yourself or for selling it is important to take care of your feet before starting capturing. Your camera can capture imperfections and prominent them so it is essential to remove dead and dry skin from your feet and make them smooth. This means scrubbing and moisturising them regularly to prepare them for good feet.
You can get a professional pedicure to have smooth heels with perfectly pedicured toenails. If you can't afford an expensive pedicure then invest in a home spa treatment with minimalist supply. You can make foot masks at home using gram flour, yoghurt, and honey depending on your skin type. Use hydrating foot creams to keep younger-looking skin.
Below are some tips to pamper your feet for good feet pics.
Use a Thick Foot Cream
This is especially important if you are preparing your feet for pictures. Use a thick cream that is specially made for feet and put on a pair of socks before bed. This overnight treatment will give you smooth heels and soles. Do not skip this step and make sure you are doing it every day before bed. Remember to wash your feet and dry them before applying for cream.
If you have fungal issues avoid using it between your toes and keep your feet dry.
Slough Away Dead Skin
This is an important step to have silky smooth skin ready to take feet pics. Being a feet model you must exfoliate your feet once a week. The tools you can use to slough away dead skin is foot scrub, pumice stone, or foot filer. You can use a pumice stone every time you shower yourself when your skin is wet and removing skin is easier.
Filing Toenails
To make them look professional, make sure your toenails are not overgrown. So keep your toenails trimmed and filed to avoid ingrown nails. You can shape your toenails square or round depending on you and they should look classy.
All these steps are important to pamper your feet and get them ready for good feet pics.
Good Quality Feet Pics
When it comes to taking good feet, pics quality comes at number one. If your pics are not of good quality aesthetics, poses, or beauty will also not work like you want. So make sure to capture quality feet pics to get buyers on FeetFinder. It is based on two factors: camera and lighting.
Here is a little explanation of choosing the perfect gear to take good feet pics.
Camera
If you are using a good-quality camera your photos can amaze you. It turned out so good with great quality. The features of your feet look more enhanced and you can sell feet pics confidently.
Don't have a good camera? Don't worry, you can use your smartphone to take good pictures.
The latest phones come with good quality cameras and are best for taking quality feet pics. if you don't have it you can get the camera on rent to capture some nice shots of your feet. Celebrity feet pics are a great example of quality feet pics and there is nothing like a good camera and lighting.
Lighting
If you don't want to spend money on lighting then you can use natural light. Believe me, there is no better light than daylight. Shooting indoors? In this case, try to buy an affordable lighting setup to have quality feet pics for your audience.
Choose Perfect Setting
When it comes to taking professional-looking feet, background plays an important role. It can attract more buyers or make your feet look boring and out of focus. Choosing the right setting can make your feet look more professional and attractive.
Let's have a look at the best setting ideas to take good feet pics.
Avoid Busy Background
If you choose a messy or busy background it can distract buyers and they explore another seller. Try to choose a plain background when taking foot pics. If you want to show creativity through background design then choose a simple design.
You may be planning to use props in your feet pics, in this case, choose a background that perfectly blends with the theme. Do not choose unique or beautiful settings, which can be pretty but also distract attention. This is a great idea to take good pictures.
Props For Professional Feet Pics
When it comes to taking pictures, props can be a great thing to draw the attention of buyers. It can make your feet look professional and you can sell them at a good rate. Selling feet pics is a great way to earn money and it is important to get attention from potential buyers. Here are some examples of props that you can use to make good feet pics.
Flowers
Flowers can add a touch of romance and elegance to your feet. It looks creative to viewers and they buy at an agreed rate. You can hold flowers in your hand near your feet or feet on the flower. It depends on what you are trying to portray with your feet pic.
Feathers
Feathers are simply cute and using those makes your feet look dreamy. You can wear anklets of feathers or fur for artistic feet pics. You can hold them in your hands or make a complete theme using feathers.
Dry Leaves
When you want to capture a natural and rustic look, pic leaves play an important role. Try posing with leaves like you are walking on the leaves. Or simply make a temporary anklet using leaves.
Sand and Dirt
Many feet lovers buy dirty feet pics and using them as props in your feet pics can help sell them quickly. Now it depends on you how to use dirt and mud to make your feet look sensual. You can have dry dirt on your feet and take foot pics.
The second option is to make a mixture of mud and water to apply it on your feet. Additionally, you can dip your toes in the mixture to take foot pics. There are pros and cons of selling feet pics because buyers demand things like this. But you can handle it with ease and focus on your earnings.
Camera Angles and Poses
Try to capture feet pics and capture the best angles of your feet. Experiment with different foot poses and make a diverse portfolio.
Where to Sell Feet Pics?
This is a common question for many people: how to sell feet pics without getting scammed? Feet Finder is the perfect place to showcase and sell feet pics online. Anyone can make money on FeetFinder so come join us today and enjoy your life. This is the safest place that provides a secure environment to its buyers and sellers.
Based on FeetFinder reviews its users are satisfied working with this platform. so join them now and use a simple few steps to make an account.
Conclusion
Knowing how to take good pictures can boost your income which is a dream of every seller. Using the above tips you can create nice feet pics and impress your audience.
Keep generating good quality content and attract more buyers for your business. Some people think selling feet pics is time-consuming and difficult but using our tips nothing can stop you from making a profit.
After creating good feet pics it's time to display so choosing FeetFinder is heaven for the sellers. Perfect place to sell feet without showing your identity and from the comfort of your home. So what are you waiting for? Join Now!