October 17, 2023

fp.wp.admin

0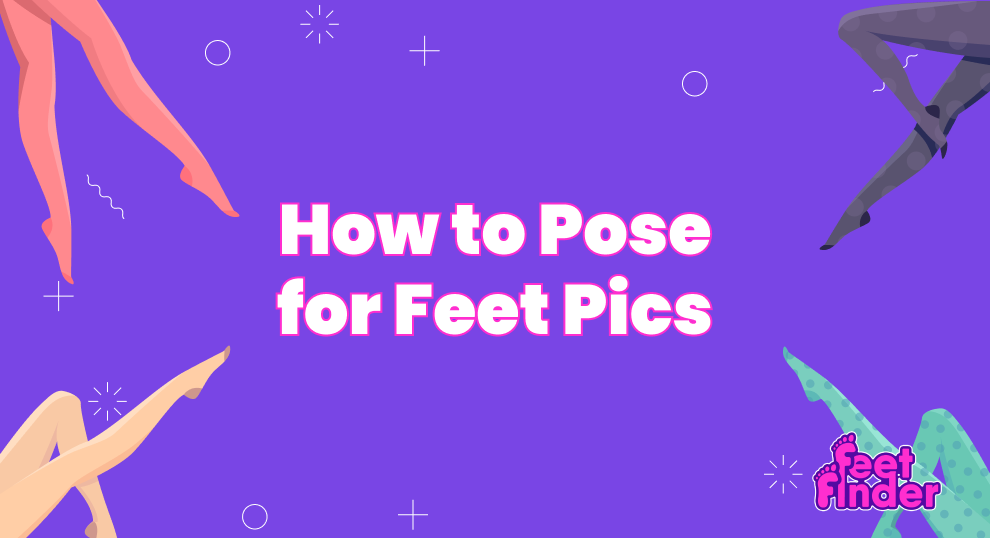 Selling feet pics is a good side hustle, you just need to find out the right platform and how to pose for feet pics. Once you have a command on these two things you will be able to earn a good amount.
Feet Finder is the best place to showcase your feet pose and in this blog, you will learn everything to take good feet pics. If you know the exact technique to pose for feet pics you can earn well on FeetFinder.
You can get a good amount by just selling good feet pics and it is a bit tricky. You may be frustrated because your feet pics do not stand out among others. You must master foot poses to earn well on this platform. Don't worry, with this guide you will learn how to photograph, pose, and capture the best angles of your feet.
Best Feet Pics Poses
This is the most frequent problem of many foot models when taking foot pics for selling. You can experiment with various poses which will enable you to capture the best angles of your feet.
Everyone wants to capture fantastic pictures and poses play an important role. When taking feet pictures come closer to your feet rather than taking them from shoulders or head level. It is important to capture the right angle of your feet that attracts buyers. It may be unpleasant for some people but it is a serious matter to capture from a right angle.
It is great to have a diverse portfolio and it is essential to determine which pose and angle suits your feet structure. Feet poses can be anything that attracts your targeted audience and stands out among other sellers.
Your clients may be seeking something unique, less styled, or even more elaborate. Check some foot poses and angles that are desired by potential buyers. You can use FeetFinder hacks to capture some nice clicks.
Bottom of Feet
This is a great position to capture the bottom of the feet facing the camera. This is the best option to showcase your foot arches. This pose is desired by many buyers because they are attracted to the soles. For this shot your feet must look soft and smooth.
Top Shot
This pose is perfect for the viewers who love toes and the top of the feet. Focusing on the top of the feet allows you to capture your entire toes. It is a simple and beautiful pose and you can use flowers, water, or food to attract buyers.
Foot Arch
The foot arch is the beauty of your feet and shows a beautiful curve of your feet. If you have flat feet you can wear high heels that show your arch even if you don't have it. You can also show your arch by standing on your toes and showing your foot's beautiful curve.
Lying Down with Feet Up
This pose is ideal for showing lower legs and feet. Now it is up to you to capture from the top or bottom or side. There are many variations in this pose and you can show it to the viewers. It also creates a relaxed and casual feet pose that is sensual to many potential buyers.
Feet In the Air
Your feet are raised in the air and creating them is also very easy. You can achieve this look by lying down on a bed or sofa with feet in the air. This pose also gives you an opportunity to capture different angles.
Candid Shots
This is the best option to capture natural foot poses and angles. You can hire a professional photographer who has experience in taking foot pictures. This is also possible if you set your camera on a tripod and record different poses of your feet. You can walk or sit on the grass, sand, or rose petals.
 Style with Heels
High heels are desired by many people and feet with heels have a high demand. Do not wear heels for a longer time as it can hurt your feet if you are not comfortable. There are some pros and cons of selling feet pics so you have to take care of your feet.
Foot fetish is a big money maker and feet in heels are their most desired feet pose. You can capture feet in high heels on the bed with a white bed sheet. You can earn some extra money and stand out among other sellers by capturing feet in heels. You can get inspiration from celebrity feet pics and now you can view them on feetfinder.
More Tips to Take Perfect Feet Pose
Props for Professional Looking Feet Pics
It is essential to use props when taking professional foot pics for selling them in the online market. People pay attention to the feet but props create a theme that also attracts many buyers. The main purpose is to sell more pictures and stand out among others and foot poses using props make them different. It can add interest to your feet and you can use any props in your picture to make them desirable. These are popular items that you can use as props for good feet pics.
Flowers
Candles
Jewellery
High heels
Rocks
Water
Sand
Grass
Petals in the water tub
Temporary tattoos
Mud or dirt
It all depends on your targeted audience to use props. These are some examples of props that you can use in your feet pics. You can add things of your choice for your client and their requirements.
2. Right Gear
It is important to choose the perfect gear to get the desired feet pics. Feet pics quality and pose are important when you want to earn money. It can create a pic that stands out and you will get buyers on foot finder. These two basic things are important to take quality foot pics.
3. Camera
Use the high-resolution camera to get perfect foot pics for selling online. Invest in a good camera if you are serious about selling feet pics and earning money. However, you can use your mobile phone as well if it has a good camera.
4. Perfect Lighting
The lighting matters even with a good camera. It enhances the beauty of your feet 'pics and makes them prominent. If you don't want to invest in a good lighting setup you can use daylight to have perfect feet pics. It can be an issue if you are shooting indoors with bad light so invest in an affordable lighting setup to get perfect output.
Right Place to Showcase Your Feet Pose
You are doing everything to get perfect feet pics and what if you get scammed or anything bad happens to you? So it is important to choose a platform that is the best among other fake places.
FeetFinder is the best place and you can sell feet pics without getting scammed. The procedure is simple when it comes to making an account on FeetFinder. Anyone can sell feet pics and make money on feetfinder. So what are you waiting for join now!
Feet Care for Photographs
Feet pampering is an important part when it comes to taking quality foot pics. Whatever you intend to use these pictures your feet must look their best. Before starting to pose for foot pics it is important to prepare your feet with good foot care. Your camera can capture imperfections that you can't see with your naked eyes. If you have any rough patches or calluses you must treat them before posing for foot pics.
No one wants to ruin their hard work of raking feet pics by unsightly foot problems. If you don't want to invest in an expensive pedicure then invest in home spa treatment with a limited supply such as foot masks, moisturisers, foot scrubs, and nail polish.
Here are some tips to help you care of your feet:
Washing and Moisturising them
This is important for every type of foot and skin type. Wash your feet with mild soap at the end of the day especially when your feet are in close shoes. Dry with a clean towel and apply a thick moisturiser that is made for feet. The moisturiser will penetrate overnight and you will have soft and hydrated skin in the morning.
Exfoliate Once a Week
No one is perfect and feet are the most neglected part when it comes to care. When you want to capture professional foot pics it can include different angles and poses. It is important to remove rough patches and dry skin from your feet.
You can use a good foot scrub at home at least once a week or slough away all the dead skin using a pumice stone or a foot filer. That will make your feet look smoother and softer which is perfect for a good pose.
File Your Toenails
To avoid ingrown toenails and to avoid fungal infection, keep your toenails trimmed and filed. Do not over-cut them as it can increase the risk of ingrown.
Protect Your Feet
It is essential to use sun protection for your feet because UV rays can be harmful to your skin. Always use a good sunscreen that is made for the hard skin of your feet. Before going outside for a longer period apply sunscreen. Suntan comes quickly and takes time to get rid of it.
Conclusion
Feet poses are an important part of feet pics especially when you are trying to make money by selling feet pics. A good place for showcasing feet pics is also crucial and choosing FeetFinder is the best choice based on FeetFinder reviews. Using the above feet pose ideas and tips you will be able to take shots perfectly to impress your targeted audience.