October 3, 2023

fp.wp.admin

0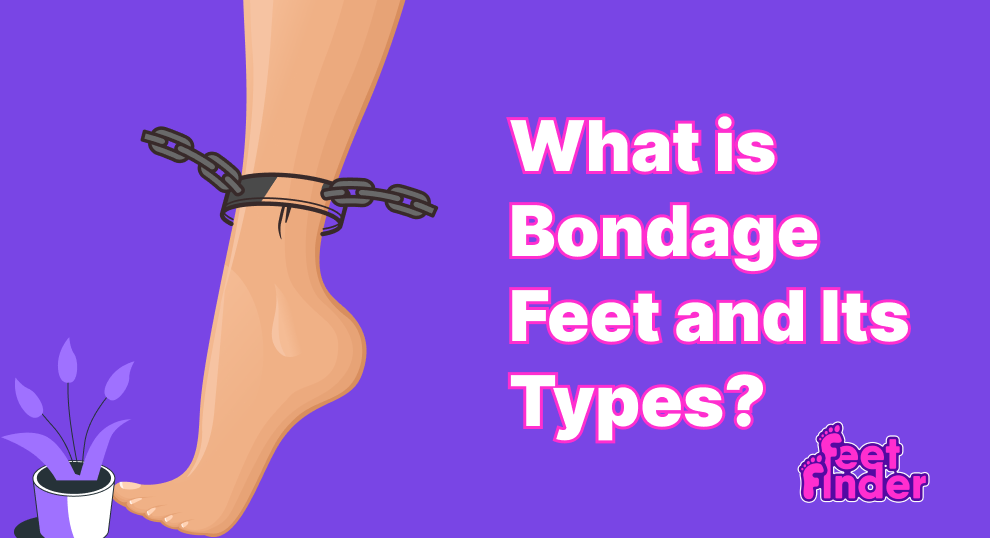 Feet bondage is a unique category when someone gets satisfaction from either tying up someone else's feet or having their feet tied in various positions. Feet bondage can mean everything from being feet cuffed to the bed in terms of sexual pleasure, play, or pain in some cases. It is really about a person's sexual preference, fantasies, and comfort level.
On the other hand feet fetishism is strictly about getting sexually aroused by looking at or touching feet. Feet Fetishists also love to view or buy feet bondage images on the Feet Finder.
If you are wondering where you can view, buy, or sell feet pics the answer is Feet Finder. Buyers can demand feet bondage images and if you agree, entertain your clients. There are always some pros and cons of selling feet pics.
What is Feet Bondage?
Feet bondage is tying up feet tightly or softly for sexual pleasure and pain in some cases. People who are into feet bondage love tying up their partner's feet for sexual arousal. It is the consensual tying and binding of another person's feet for sexual stimulation. Bondage accessories tools vary from cuffs, cloth binding, and ropes to pate and bondages.
The question is what is it about bondage that people like so much? When it comes to bondage it is the personal preference of an individual but there are some of the most common reasons that people enjoy kinky things.
Here are some reasons that people enjoy feet bondage fun from time to time.
Security
In some cases, it provides a sense of security like a lover's embrace. Tight ropes around the feet provide security and satisfaction to a person whose preference is security.
Control and Power
Feet bondage is a part of BDSM and is all about power and control over their partner. It is like one person acting as the submissive and the other one the dominant. In this scenario, both positions are for their benefits and appeal in different ways.
A dominant person feels a sense of control and power which they might lack in their daily life. For submissive handing over control to someone else feel free from the burden of making decisions. It is also a great way to build trust in an intimate relationship to grow and have a fun time by their choices.
Guilt Free Sex
You might feel guilty about sex or sexual preferences but loving feet and tying up for sexual stimulation is a completely normal thing. One plus point if you are in the receiving act bondage can offer an escape from this.
The one being tied up will no longer be able to say no and is at the mercy of her lover. There is no other choice and you can say no just enjoy these sexual activities with your partner.
The internet is full of feet bondage and many people are interested in buying them. Selling feet pics is a popular way of earning on the internet. Feet Finder is a dedicated platform for people buying and selling feet images online.
If you are interested you can also make money on feetfinder which is great for people who are searching for a reliable and secure platform. By using FeetFinder hacks you can make your life easy in this field.
Beauty
As we discuss it is a personal preference of an individual so bondage feet is not only about tying up someone's feet but it is aesthetically beautiful. It is an erotic and beautiful way of loving your partner. This is also a reason for many people enjoy bondage feet. There are different types of ties that you can use to restrain a person's feet. In some cultures feet bondage is considered an art form.
Types of Feet Bondage
As discussed above bondage feet is a sexual kink that involves restraining a person's feet in a variety of ways. Different types of foot bondage satisfy individuals who are into it. In many cases, the recipient enjoys it the most.
While other times the person gets pleasure and enjoyment in doing the restraining. For some people looking at bondage feet pics is enough for sexual stimulation. Here are some popular types of bondage feet.
Foot Restraints
This is the most comfortable type of foot bondage where soft and comfortable ties or cuffs are used to immobile your feet. This is for enjoyment and sexual stimulation both people enjoy the procedure. While having sex or trying to start things for good stimulation it is important to relax both partners.
So foot restraints give comfort to both parties and they enjoy this pastime. For foot fetishists who are into this kinky side, it is important to use foot bondage before starting to make love.
Japanese Rope
It is a natural material made of jute and hemp. If you enjoy using natural materials then this is the right choice for you. These ropes are more difficult to take care of but it is worth using them. The art of tying feet with rope is known as Kinbaku which means tight binding. These ropes are of natural materials that are gentle on the skin.
Many people enjoy foot binding as part of their sexual stimulation and being bound can create feelings of shame and helplessness. Kinbaku is an ancient art form if you don't know how to bind feet, it can take time to master.
Ankle Cuffs
It is the easiest form of restraining someone's feet. Ankle cuffs are not only for wrists, they can be the perfect accessories for feet bondage. It is a great option for beginners to use instead of using ropes or learning complicated and intricate knots.
If you choose ankle cuffs there are plenty of options to choose from. It is also the ultimate form of control and doing things of their choice while the other person won't be able to move or close their legs. Other cuffs are used to tie your feet to objects like a bed or footboard. There is a choice of colors and materials while most ankle cuffs are made of leather.
It is your choice to choose your desired ankle cuff as there are a variety of options. It comes with feathers, fur, or other soft materials that make them more comfortable.
Shackles and Stocks
If you want a more comfortable and rough form of feet bondage shackles and stocks appeal to your kinky side. Some ankle shackles come with an iron ball that makes you feel naughty and sexy at the same time.
When it comes to aesthetics, shackles are the perfect choice for anyone with a hardcore foot fetish. An iron ball attaches to it making it look more pleasurable. Be advised that the iron balls attached to shackles are extremely heavy and you will not be able to move them. It should be used for someone with experience.
Ankle stocks are another next-level thing for foot fetishists and powerful foot bondage. Most ankle stocks are made of wood for an authentic and organic feel. Ankle stocks are also extremely versatile when it comes to foot binding and bondage feet.
You can use it to tease your partner's feet lick or suck their toes using these wood stockings. Additionally, you can fulfil all those fantasies and naughty imaginations.
Finding the Best Bondage Feet Pictures
People who are into this kinky side love to search and find the best thing for them. Whether they are images or videos you can find anything on the internet. People sell feet pics for money and if you ask them to make customised feet content they can make it for you.
Now the question is where you will get these appealing feet pics. Simple FeetFinder is the best place to find and buy your desired feet images.
Sellers prefer Feet Finder when it comes to sell feet pics without getting scammed. The internet is full of feet images and people prefer Feet Finder when it comes to buying feet images.
There is a variety of feet and images that feet models showcase to get potential buyers. Based on FeetFinder reviews buyers and sellers are happily working on this platform.
Celebrity feet pics are also in demand on the internet and if you want to view them, Feet Finder also provides them for its viewers. This is a user-friendly platform to use and sell foot pictures for money.
Feet models are making thousands of dollars on this platform. You can also do it. People are searching for making money online and selling foot images is a perfect side hustle where you don't need to show your identity.
There are a lot of different foot bondage types but the above discussed are the most common. These foot bondage accessories can be tried by anyone who loves to get stimulation through all these kinky things.
Every person is different with different tastes but looking for different sexual things and experience make you choose feet bondage. It is important to know your choice will help to choose the perfect bondage feet for you.